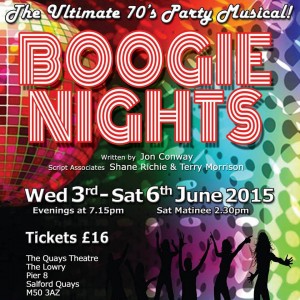 See the best 70's Musical you are ever gonna see starting on 3rd June running through to the 6th June with a matinee performance on Saturday as well. It's musical roller coaster of all the great 70's hit's you know and love set to great story-line that will keep you on the edge of your seat or dancing along with the cast in the isles.
Tickets for this event are bound to sell out fast and are only available from the Lowry Theatre box office – http://www.thelowry.com/boogie-nights
I am very proud to say that I am involved in a small way of helping create the sights and feel of this brilliant show. As a lover of all the seventies disco hits, I personally will definitely be attending this amazing performance and even be helping out providing some of the authentic seventies disco equipment, lighting and props for the show.
I'm also please to say I know one of the cast personally James Cockerill and have a message for him, "break a leg" metaphorically, not literally mate. We need both legs very much working on this show.
Don't have a Night Fever when you know You Should Be Dancing and Staying Alive to this Disco Inferno. Come along and lets see you strutting your stuff…!
You may also like