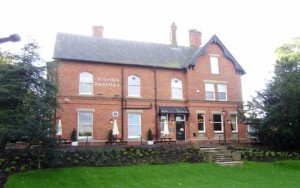 Joshua Bradley Wedding DJ
I was the Joshua Bradley Wedding DJ since it first opened it's doors to the general public in 2009, shortly after being converted from a residential abode. The main building is a beautifully restored mansion house in the most captivating of settings. It has been lovingly converted into a thriving and refined venue for the discerning drinker and diner under the new ownership of Hydes Brewery, not to mention host to many weddings in it's relatively short lifetime.
I had the privileged position of being the Joshua Bradley Wedding DJ and therefore putting it on the map for all weddings in Gee Cross, Hyde part of Cheshire.
I am proud to have held the title of The Joshua Bradley Wedding DJ under its amazing former manager Riccardo Maiolani. It's position I really worked at not just to the betterment of myself but to the venue, management and great staff. Anyone who knows me will tell you that I regarded the place as my second home as I never seemed to be away from it. I must point out at this point that I'm not related to "the" Joshua Bradley and don't own the venue as some people generally sometimes ask. It's just a happy coincidence, more's the pity.
The function suite at the Joshua Bradley where all events take place, including marriages and civil ceremonies, is called "The Bluebell Suite". It's a modern well equipped and dedicated function suite, built and styled with large oak beams, mezzanine style balcony and on the uppermost level, the beautiful Hay Loft where weddings themselves are conducted.
As a Wedding DJ at The Joshua Bradley, I have entertained for the following clients:-
….these are just a few of the many weddings that I have been honuoured to be the Joshua Bradley Wedding DJ. They do not include all the other private parties like birthdays and anniversaies that I have also been booked over and over again as their DJ.
The Joshua Bradley's address and how to find it…
Stockport Road
Gee Cross
Hyde
Cheshire
SK14
Telephone – 0161 406 6776
Website – www.TheJoshuaBradley.co.uk
Facebook – www.facebook.com/pages/The-Joshua-Bradley